New Credit Union Banking on Modular Solutions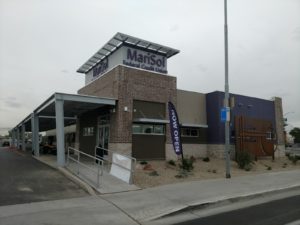 This modular credit union chose prefabricated construction, and look at the results.  Banking on Modular Solutions, Ltd to provide all the security and architectural elements that make the facility the center of the community, not just a financial institution.
This modular facility included art work from local artists to capture the vibe of the surrounding community.  Using metal and natural stone elements combined with brick and block features make this a very modern structure.  The owners chose interesting architectural elements for the design inside and outside to make community members feel welcome and to know this was a place that could take care of their financial needs.
We have a great video of the installation of this building on our youtube channel.  Subscribe to watch this and other great videos as they are posted to the channel.
For more information about modular credit unions or modular banking facilities contact our team.