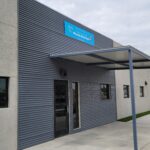 Head Start facilities in Arizona are ready for a more modern appearance with clean lines, and mixed material finishes.  Modular Solutions, Ltd also provided lots of natural light in this center for the children to thrive and experience the beauty of Arizona nature. Some of the great design features included LOTS of indoor cabinets and storage space, toddler restrooms, energy star mechanical design, commercial kitchen appliances, a staff break/work room, and awnings for weather protection.
The addition of a tricycle path and playground in a protective and safe environment to the rear of the building allows the early head start children a place for outdoor recreation and play space.
If you have a daycare or head start facility that you were considering traditional design-bid-build methods talk to our team about cooperative procurement opportunities to get into your new facility at an accelerated pace.  Call us today, or email our preconstruction team for more details.