Modular Solutions, Ltd is a custom manufacturer of modular buildings.   Many of our clients look at our finished projects and declare is that really a modular building?
One of our favorite types of projects is working with a client from a conceptual plan through full project close out.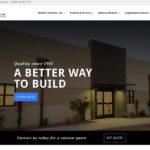 In the construction industry this is called a design-build project.   Modular Solutions, Ltd is one of the only companies in the southwest that is licensed in multiple states for architectural, general contracting, and manufacturing.
Modular Solutions, Ltd has a preconstruction team that meets with your organization and helps build a list of space requirements into a floorplan, a budget, and specification package.   We then help you tackle the cumbersome list of site requirements.  Because a modular building is the same as permanent construction there can be quite a comprehensive list developed by the local planning and zoning department for approvals.   Our preconstruction team will help facilitate preconstruction estimates and budgets.
Once the design & engineering are complete we start the manufacturing & site work.   The site work is done at the same time as the modular fabrication allowing for expedited schedules.
Our clients have used permanent modular buildings for education, government, religious, healthcare, hospitality, industrial, retail, Native American, and housing.  Usually our clients are ready to move into their new custom designed facility in 90 – 120 days from approved plans.   Call for an appointment to reach our preconstruction team 602-952-9741 x 1.