The goal of this blog is to educate our clients about all aspects of modular construction.  This article will help you learn a little more about vapor barrier for modular construction.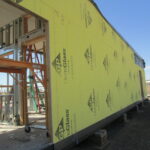 As you learn more about modular construction you also learn that the construction methods meet or exceed code requirements for your new facility.   The goal of our team is to help you discover "" .   In doing this we want to help you understand why we use certain materials such as vapor barrier instead of just having exposed studs like "the -old-days" .   As the construction industry evolves, our architectural and engineering department are making sure your new facility will be safe, have an extended life cycle, and be an asset to your "brand" for many years in the future.
While many clients think "modular construction" is just a temporary space fix, other clients have come to understand that choosing prefabricated methods saves time & money and is great for the environment.
To learn more reach out to our team (800) 441-8577 x 1 (sales)
#phoenixmodularconstruction
#modularconstructon