Modular medical clinics are a great solution for any clinic looking to add more space.  We have constructed medical clinics for:
Modular Medical Clinics and Urgent Care Facilities
Modular Behavioral Health Centers
Modular Imaging Suites MRI/CT Scan Facilities
Modular Dental Clinics
Modular Dialysis Clinics
Modular Emergency Room Facilities
Modular Lab Facilities
Modular Pharmacies
Modular Herbal Healing Centers
Modular Wellness Centers
Modular Orthopedic And Occupational Therapy
Pediatric Care Hospitals
Research And Development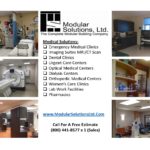 The applications are unlimited, and our experienced team are the go-to experts for design-build medical projects.
Learn about accelerated construction schedules, alternative construction methods, less noise and debris and dust on site.  Our team would like to share .
Call for a free consultation :  (800) 441-8577 x 1 (sales)   or email us for an appointment at information@mod-sol.com