Head Start Facilities Use Modular Solutions For New Centers
Modular Solutions are a great fit for head start facilities.  Head Start facilities are not your typical day care center.  As a federally funded agency,  their goal is early intervention with preschool age children, building a great foundation for educational success.  When a construction project is federally funded there is another entire layer of approvals and construction requirements that are incorporated into the design and approval process.  This is where the experience and teamwork of Modular Solutions are a great benefit!
Modular Solutions, Ltd has constructed head start facilities throughout the southwest.  Head start projects require an architect to stamp the building plans.   The great thing about modular construction is that our plans are production shop drawings and our "in-house" N.C.A.R.B. architects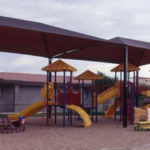 can stamp the plans for design and construction of the prefabricated building.  This saves time and money, when compared to hiring an outside third party architect to prepare plans, design, bid, build.    Modular Solutions, Ltd is a GSA vendor and offers our clients the ease and convenience of purchase through our GSA cooperative contract # GS-07F-0199L.  Some great project  features we have included are concrete floors, stucco exteriors, commercial kitchens, full turnkey site development and MORE!
To learn more about Modular Solutions, and head start facilities contact our team
Modular Solutions, Ltd – information@mod-sol.com  – 602-952-9741 x 1 (sales/preconstruction)