Modular Solutions celebrates another successful year
Established in 1996 we knew we wanted to offer more than a box with a lid.   Our clients came to us with unique space needs, and modular solutions, ltd developed unbelievable beautiful permanent space solutions. As Modular Solutions, Ltd celebrates a birthday, we have learned some great lessons along the way.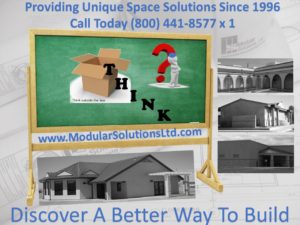 Modular Solutions, Ltd has a long standing reputation in the modular industry for for developing creative and innovative space solutions for our clients.  When a client has an existing campus or facility our team is able to create a beautiful exterior finish that looks like the prefabricated modular building has always been on site.
As times change, and innovations in construction design develop, our state of the art architectural team is on the job to make sure the facility has a timeless elegance.  Sustainable construction design has been one of the most frequent requests we receive from our clients.   By doing simple construction methods such as reuse of wood cuts in the plant, upgrading the building envelope, including better insulation values, offering more energy efficient appliances and HVAC equipment we are offering our clients .
For more information on Modular Solutions, Ltd contact our team:
Phone:  800-441-8577 x 1 (Sales)
Email:  Information@mod-sol.com
youtube channel:  https://www.youtube.com/user/Modularsolutionsltd