October is the official made in Arizona, manufacturing month.  As commerce celebrates scores of businesses moving to Arizona, we want to highlight our company as an Arizona based manufacturing firm, in business since 1996.  Modular Solutions, Ltd started as a small dealer brokering buildings for factories.   As we took a leap of faith and opened our own factory it could not have been a better business decision.  Clients are able to have expedited schedules, custom orders, beautiful architectural embellishments; all which are not available if you are only a broker.
As a manufacturer here in Arizona we have built a reputation for quality and excellence in all of our projects.  Building in an open environment, our team has the ability to construct without the height and size limitations that other factories have.  We also have a full architectural team that will help ensure the architectural elements of the new modular building being manufactured captures the essence of our clients' style.
Many clients choose a design-build approach to  projects; With our N.C.A.R.B. architectural team, and our general contracting team (all in-house) working along side of the manufacturing team, we offer a  more turnkey approach.   This allows our clients to have  one single point of contact and expedites all aspects of a new building or construction project.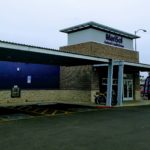 Manufacturing custom buildings is a niche that we have successfully filled.  Many clients that have a targeted opening date like schools or businesses are glad they made the choice to work with Modular Solutions and discover a superior way to build.
Our company is large enough to get it done, and small enough to care that is done well!
check out our social sites or this website for more information on our team and our projects.